Henry Jones
The 4 Areas of Digital Transformation


Transforming the business digitally is crucial in today's time. In the digital transformation process, the company tries to transform the entire business process and adapt the latest technologies like artificial intelligence, machine learning, and automation tools to improve overall efficiency.
Digital transformation services redefine the way a company deals with internal or external factors. It challenges the traditional business environment and asks for new changes in the organization to enhance overall work efficiency. It examines the overall aspect of the business. Be its operational agility, work enablement, customer experience, or internal culture of the organization.
Basically, digital transformation enables companies to boost their work and make their services more result oriented.

Let's focus on major areas of digital transformation

1) Business processes
This challenges the overall business processes in the organization. It integrates the entire business, be it people, processes, or applications. It transforms all aspects of the business, like service models, business processes, skills, and plans. It upgrades the team with better technology.
A few aspects are to be considered while planning some digital transformation solutions for business processes. The most important of all is defining the business goals.

2) Business model transformation
Business expectations are changing with the changing market dynamics. With the help of digital transformation tools and technologies, you can improve your business models. It transforms into other forms and adopts those models that can be adaptive with time. The motive to transform the business model is to achieve business growth and to stay ahead in the market and from the competitors.

3) Domain transformation
If you want to expand your business and enhance working efficiency, then you must adopt the cloud. So in simple words, domain transformation means shifting the entire business operation and function and data to the cloud.
There are plenty of reasons why a company adopts domain transformation. It includes cost efficiency, scalability, and improved agility in business operations. While making the digital transformation strategy, companies must consider domain transformation. You can expand your data storage and share the workload.

4) Cultural transformation
People are always resilient to change. If you want to modernize your application by adopting digital transformation services, then the biggest challenge that you can face is cultural change. With new technology, you require to make certain changes in the cultural environment of your business. You need to align the company's future goal with the employee's mindset. To make the goal align with the current workforce is difficult as the company's culture is a set of unsaid, values and beliefs of the organization.

Conclusion
In this article, we try to explain to you the effective areas of digital transformation. We try to explain the significance of each domain and how you can enhance efficiency by adopting digital transformation. If you find this article interesting and want to know more about it, then you must contact us. We are JK Tech. We are one of the top digital transformation companies in USA. If you want to avail of our service, then contact us now. Experience excellence with us at every step. We know how to make a difference.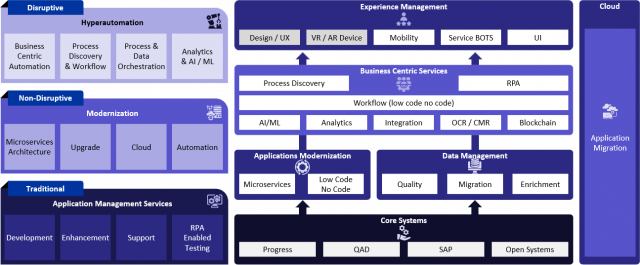 Digital Transformation Services | Solutions | Consulting companies
jktech.com
JK Tech's Digital Transformation Services & Solutions helps in transforming businesses to deliver a flawless digital experience to your customers with a range of innovative technologies.

Henry Jones
Multi-experience: A new approach to Digital Transformation

The more we are moving towards technology, the more we urge for ease and comfort. The goal of multi-experience is to provide a seamless consumer experience by utilizing a variety of modalities, digital touchpoints, apps, and devices. The goal is to engage with customers as frequently as possible to provide a consistent customer experience across the web, mobile, app, and other modalities.

A multi-experience strategy would involve people interacting with the store via its website, mobile app (for both iOS and Android), voice-activated service (such as Amazon Alexa), etc.
In terms of e-commerce, this would include exposing a user to numerous touchpoints for the same store. For instance, a person can buy anything both using a smartphone app and voice-activated devices. In today's time, it has become an integral part of digital transformation services.

The retail sector along with digital transformation solutions, is on the verge of realizing the benefits of multi experiences, and it is praised as a successful example of how to engage customers in a variety of ways to improve their customer experiences.

How can we enable Multi experience?
Using multi-experience development platforms, to put it simply (MXDP). MXDPs are analytical programs that facilitate and streamline delivery across many devices. They aid in the better understanding and prediction of customer behavior by developers or IT specialists. They also assist in ensuring that app experiences are uniform across various platforms.
There are a few best digital transformation companies that will help you with it. With the right digital transformation strategy, you can craft multi-experience for your customers and business.

How can multi-experience help you to grow your business?

Accessible devices
As previously mentioned, the majority of people have at least one smart device that they use to access their preferred apps, services, and data. This is enhanced by the fact that the majority of mobile-friendly organizational initiatives are channel- and device-neutral, making the importance of multi-experience even more pertinent for growth.

Adherence to Content
Subscription-based app development is generating an increasing number of apps for tablets, smartwatches, smartphones, and other devices. To improve their offers, many of these app developers have used contemporary multi channel engagement strategies. The apps that are gaining traction are those that use both desktop and mobile platforms, especially those that cater to sectors like healthcare, banking and insurance, and retail.

Budget-friendly technology
The adoption of multi-experience techniques is a "no-brainer" due to the cost-effectiveness of technologies like conversational AI (chatbots), IoT, etc., as well as their capacity to address specific needs. Additionally, the products built on top of these technologies, such as voice-activated speakers, are becoming more affordable every day.

Conclusion
Adopting multi-experience tactics doesn't appear to be as much of an out-of-body experience as it once was. The MXDPs of today have assisted companies in developing more responsive apps and advancing toward digital transformation by solving critical industry needs and filling market gaps.
JK Tech views the facilitation of several experiences as a chance to set ourselves apart from the competition. We work with businesses to quicken the pace of their effort to modernize the user experience and complete the digital transformation.
Get in touch with us to learn more about multi-experience or to find out how JK Tech, one of the best digital transformation companies in USA, can help you get the most out of your application and content experiences.